Your organisation may be working towards a quality assurance and management system – an organisation's commitment that the product or service it offers meets key quality standards.
This is achieved by understanding the meaning of quality in the context of the organisation and identifying approaches to measure and evaluate its effectiveness.
Two underlying principles are normally included in quality assurance:
Fit for purpose – the product or service should do exactly what the organisation states that it will do.
Right first time – the product or service should have all errors eliminated and maintain the level of quality throughout. Quality is determined by users, clients or customers and is not related to the price of a product or service.
The British Standards Institute provides an insight into quality standards, which may vary, depending on your sector or industry.
By understanding how quality is managed within your organisation you can see at first-hand the consistency of the standards that are produced and how that feeds into the overall level of performance.
Examples of quality standards include ISO 9001 issued by the Quality Assurance Agency within higher education; and NICE in health and social care.
Whatever standard your organisation works towards, you can help to shape best practice. By getting involved you can continue to raise standards and have a voice in developing the process.
All quality management systems have clear objectives. These cover: identifying the outcomes for the system; planning and documenting an appropriate process for delivering these objectives; implementing how the system will be monitored; and reviewing the outcomes against the original objectives (see diagram).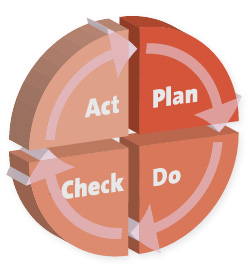 Plan - Identifying the problem and establish objectives
Do - Implement the plan
Check - Measure the effectiveness of the plan against the objectives.
Act - Correct and improve the plan continually monitoring it against the objectives of the QMS.
How can quality improvement systems help your career development?
There are three key ways that you can improve your career potential through
involvement with quality improvement systems:
You will become part of a team working to improve standards, procedures and services. You may work with people that you don't normally work with and inadvertently enhance your professional business network of contacts.
You will have a chance to make an impact for change within your workplace and work with senior managers to implement new processes. They will see you working in a different environment and positively contributing to change.
You will learn new procedures and techniques that you can redeploy in other organisations and industry sectors if you decide to move on now or later.